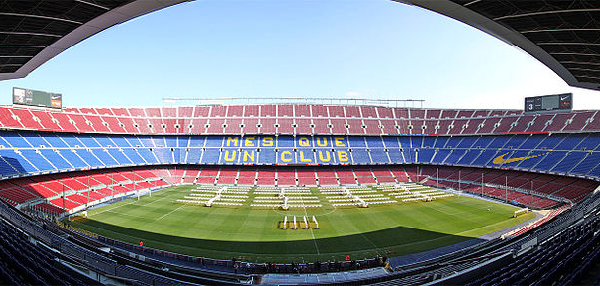 Tips for attending a football match in Barcelona
If you're travelling to Barcelona, you'll realize that activities around football are all over tourism here. Catalan people love football, and they will go crazy for a good match. This happens specially when an epic match is going to take place in Camp Nou, like for example El Clásico that will be celebrated on December 18! If you're attending a football match in Barcelona soon, these tips are for you.
El Clásico is how they call a match between the two most famous football teams in Spain: FC Real Madrid and FC Barcelona. This match has become one of the most important events in Barcelona. The game is watched worldwide and usually broadcasted in more than 180 countries, which explains its popularity between tourists that come to Barcelona each year.
The Camp Nou, the official FC Barcelona football field, can hold up to 99.354 hinchas (football fans). This turns it into the field with the greatest capacity of expectators in Europe! Designed by Catalan architect Francesc Mitjans in 1954, this football field has become an iconic place to visit when travelling to Barcelona, specially when there's a match coming.
If you're coming to beautiful Barcelona and want to pay a visit to this amazing building or watch El Clásico there, please take care of the following: 
A few tips for the Camp Nou
Bring good shoes
Even though this camp and its logistics are designed to minimize the hours of wait, the amazing amount of people it holds may translate to extra time looking for your spot or maybe just waiting in line to get it. So we always recommend you bring good shoes with you, as you may stay on your feet for an extense period of time. This is also important in the fall and winter months because rain makes the floor slippery.
Make sure you get a pair of shoes and comfortable clothes (we recommend wearing your favorite football FC tshirt!) that will work under these conditions in order to fully enjoy El Clásico.
Hidrate yourself
This is never a bad advice. But when it comes to a football match, it's imperative! Drinking enough water will keep you in a good health condition through all the game and will prevent you from suffering excessive heat which is common when you get in between crowds.
A good thing to keep in mind is: keep an eye on where the bathroom is, so in case you drink a little too much water you can head up fast for a small break there without losing the most iconic moments of the match while on the bathroom!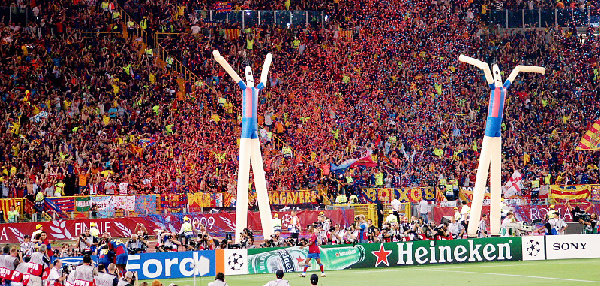 Buy your tickets in advance
…or if you don't, you'll regret not doing it. Even though this stadium holds a lot of people, it's always hard to find a spot when it comes to El Clásico, as re-sellers usually take many tickets on the first days of the sale to re-sell it outside of the campus on the day of the game.
This makes getting tickets really difficult and expensive. Also, you take the risk of buying falsified tickets and losing your money. Because of this, we recommend you buy the tickets in advance. If you're travelling soon to Barcelona, plan ahead so you will be able to buy the tickets online.
If you're going by car, find a parking spot in advance
Usually we recommend getting to Camp Nou by public transportation. It is affordable and easy to use, works perfectly and will not let you down after the game! But if you have a car and need to get there by it, we recommend arriving at least two hours before the game in order to find a good, safe parking spot for your car.
There will be many people there that day so make sure you find a safe spot, maybe a covered parking lot. We do not recommend leaving your car in the street.
Expect to find a crowd
When we say this stadium holds the greatest capacity in Europe, we mean it! If you have a rough time getting into crowds, you may wanna get yourself in the mind-set for finding a lot of people there. Careful with panic attacks! This stadium is designed to make it easier for everybody to find their spot and for crowds to be organized and safe at any time, but if you have a hard time meeting crowds you might want to reconsider going to El Clásico.
Other options for people who don't like crowdy places is visiting the stadium on a regular day, when tours are set and you can get to know the Camp Nou without attending to a game.
Make sure you also pay a visit to the Espai
Matches are not the only attractions the Camp Nou has for tourists. In the surroundings of the stadium, Catalan government has invested on many other buildings and interest spots for people who is into football and sports in general. The Espai Barça is designed to make you feel the experience of a professional football player, getting you into the details and little secrets surrounding this stadium.
We recommend you also take a moment to visit the whole Espai Barça, with its museum, FC Barcelona store and even the ice-rink!
You can find the tours on their official webpage here.
The most important advice we can give if you're attending a football match in Barcelona soon is: have a lot of fun! And if you need a doctor, remember you can call us or book a visit.