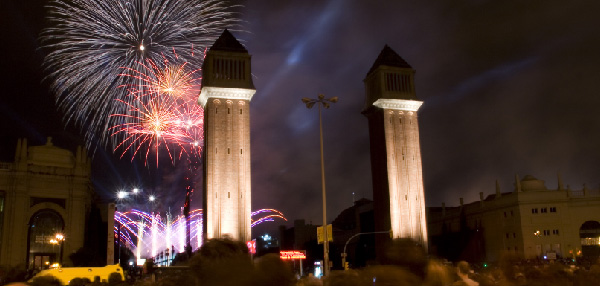 What to do in New Year's Eve in Barcelona
The time has come and we have to say goodbye to 2019. This is a perfect moment to spend time with our family,  plan and dream for the next year, think about everything good that has happened in our life through these 365 days (and this decade!) and celebrate. We had a great wonderful year in Barcelona and we are going to close it with style!
If you're travelling to Barcelona this New Year's Eve, you will probably realize that every place (party, restaurant, you name it) is overbooked by this time. But don't worry! Barcelona is considered to have one of the best weathers in Europe, so why spend New Year's Eve indoors when you can celebrate it with the whole city?
Check out what the Catalan capital is preparing for you this year on New Year's Eve…
2019 New Year's Eve in Barcelona
Montjuïc

's Magic Fountain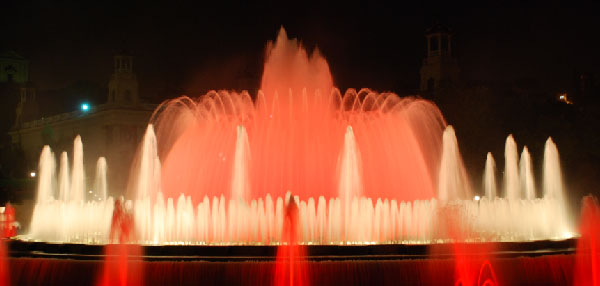 In New Year's Eve, our date is on Avinguda de la Reina Maria Cristina. Starting at 9:30 p.m., the Magical Fountain of Montjuic will display its characteristic lights and music show. If it is your first time in Barcelona, you can't miss this event! We wont spoil the surprise for you but we'll leave you a hint: People call it the dancing fountain.
This magic fountain is the crown in a set of water and light games that start from the National Palace to Placa de Espanya. This includes ponds and waterfalls that are decorated with beautiful lights and it's a very nice activity to do with kids.
Pyrotechnic show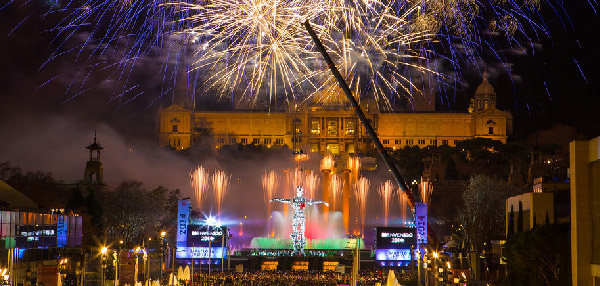 The pyrotechnic show will be hosted by Groupe F, one of the biggest international pyrotechnic show and open-air theatre companies. This company is known internationally for their unique shows that deliver an amazing experience to all espectators. They have hosted the Rio Olympic Games before and the inauguration of the Abu Dhabi Louvre.
The show will have an exclusive electro and electroacoustic music background made specially for this ocasion by producer Scott Gibbons and visuals by Christophe Berthonneau. We don't want to spoil the surprise again but we assure you this has a lot to be with light, fireworks and paying homage to the year that has passed. This show will start at 23:48 and finish at 0:12, and you will be able to see it from all sides of the Passeig between the National Palace and Placa Espanya.
More than 70.000 people are expected, so keep in mind there will be crowds. We recommend you take the previsions needed and consider going by public transportation. Good news: The Metro will work all night on New Year's Eve! Merci, Barcelona!
Metro will be fully operative all night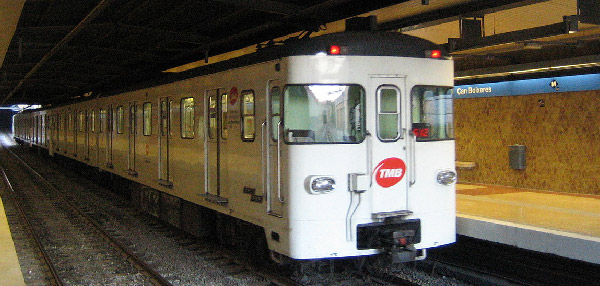 If you want to attend to this celebration, your best option will be the good old Metro. Both locals and tourists love it: It's fast, it's not as expensive, it can get you everywhere and it will be fully operative all night. Plan ahead what your route will be from this celebration to your place and keep it with you for when you have to go back. A tip: Google maps works great with Metro!
If you're going by metro, take the L3 (green) to Placa Espanya. You can also take the L1 (red) to the same station.
Doctors Barcelona will be fully operative during this holidays as well, so if you need a doctor these days, don't worry! We got you covered. Call us if you need an English speaking doctor and we will be at your doorstep in no time.
We hope this year was as good to you as it was to us. Happy 2020 from all the staff of Doctors Barcelona!