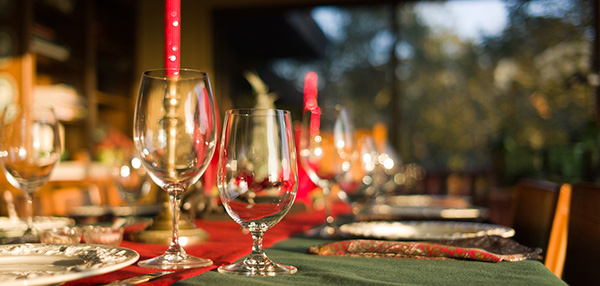 Christmas is here! Here's how we celebrate it in Barcelona
The time for the Christmas dinner and parties is here! While you may be a little concerned about getting those typical extra pounds, the holidays are always a good time to have fun, let lose of pressure from work and look back at what has been our year so far. Wether if it's your first Christmas in Barcelona or not, here we bring you a few tips to get in mind if you're going to spend your holidays in the city this 2019:
Typical Christmas dinner in Barcelona
Spain is known for the diversity of its regions and the broad range of different activities that characterize each one. Christmas is one of the most important times of the year in this country. It brings family together at the dinner table and represents the Spanish culture and traditions.
Catalunya has a lot of reasons to be here for the holidays! In Barcelona, people typically share tasty dishes that help them get through the cold days and even colder nights. Catalonian people usually get together at a relative's place in Christmas eve to celebrate with the whole family.
In Christmas, the most typical starter in the Catalonian dinner parties is the galet soup. This soup is made with a snail-shaped pasta that is cooked in a vegetable broth, potato, chicken, legumes and chicken. In addition, this soup is prepared with a pilota, a giant minced meatball that is prepared with egg, breadcrumbs, garlic and parsley. So good!

Next, Catalonian people usually eat a large stuffed chicken cooked in the oven. This is a dish very similar to the stuffed turkey in Thanksgiving, but Catalonian typical chicken is filled with nuts: pine nuts, raisins, dried apricots and apple. A very sweet and tasty dish to share that combines perfectly with the galet soup and also the canelones, which as very common in this holiday as well.
Best places to go during Christmas in Barcelona
If you're not so much into cooking but still want to hang out in Barcelona during the holidays, don't worry about it! This city offers a lot of options for everybody. Its weather in winter is amazing! If you're not looking for snow, Barcelona will give you everything you need: clear blue skies and higher temperatures than most European cities. The city is decorated with colorful lights all over the place, and the Christmas markets are all over the place!
One of the most famous Christmas markets is the Fira de Santa Llucía. This wonderful market started as far back as 1786 and it's a great place to understand the things people buy in Barcelona during the holidays. It's in front of the Cathedral and if you're lucky, you can come across La Carassa de Barcelona, a giant head depicting a Turkish warrior that is usually put on the streets while spitting candy out of his mouth for kids to pick it up. If you're traveling with kids, this plan is definately great for the whole family!
There is also a newer Christmas market, founded in the 1960s, that you can go to in front of the imposing Sagrada Familia. There you can find castanyes and many other traditional dishes and gifts for family and friends. With this amazing back drop you'll also be able to buy caganers and caga tíos, the typical figures on Christmas in Catalunya.
We hope you'll enjoy your time in beautiful Barcelona these holidays. And remember, if you start feeling sick due to a cold or other reasons, we got you covered. Call us and one of our English speaking doctors will go to the rescue!